I'm writing this blog post at Heathrow airport having accidentally gotten here 3 hours early. Eating a bag of Walkers with a roll of Digestives in my backpack, it seems like as good a time as any to reflect on my time in Cambridge this summer.
When I first got to Cambridge, it was one of my goals to finish a book called 111 Places in Cambridge That You Shouldn't Miss. While I technically failed tremendously in this goal (I probably didn't even get halfway through), I succeeded in a different goal that I didn't even know I had: fall in love with Cambridge.
I know how cheesy that sounds, I cringed while writing it, but it's entirely true. So instead of talking about the 111 places the book told me to visit, I'm going to tell you about the top 10 places that made me fall in love with Cambridge.
10. The Cam River
It feels almost impossible to think of Cambridge without thinking of its iconic river and the culture behind it. Whether it's punting, listening to the King's choir, or just enjoying the view; the Cam river will play a role in any trip to Cambridge. One only has to look at my camera roll to see why it's in my personal top 10 places in Cambridge. It was my favorite view every morning on my walk to class, usually crossing it twice.
9. The Cows
"Cows, Colleges, and Contentment" – am I talking about Northfield or Cambridge? I'm talking about both! Another staple of my daily walk to class was the beautiful and friendly cows that roamed freely across a large field bordered by two outcrops of the Cam. In fact, if you're lucky you can get both a cow and the Cam in one picture!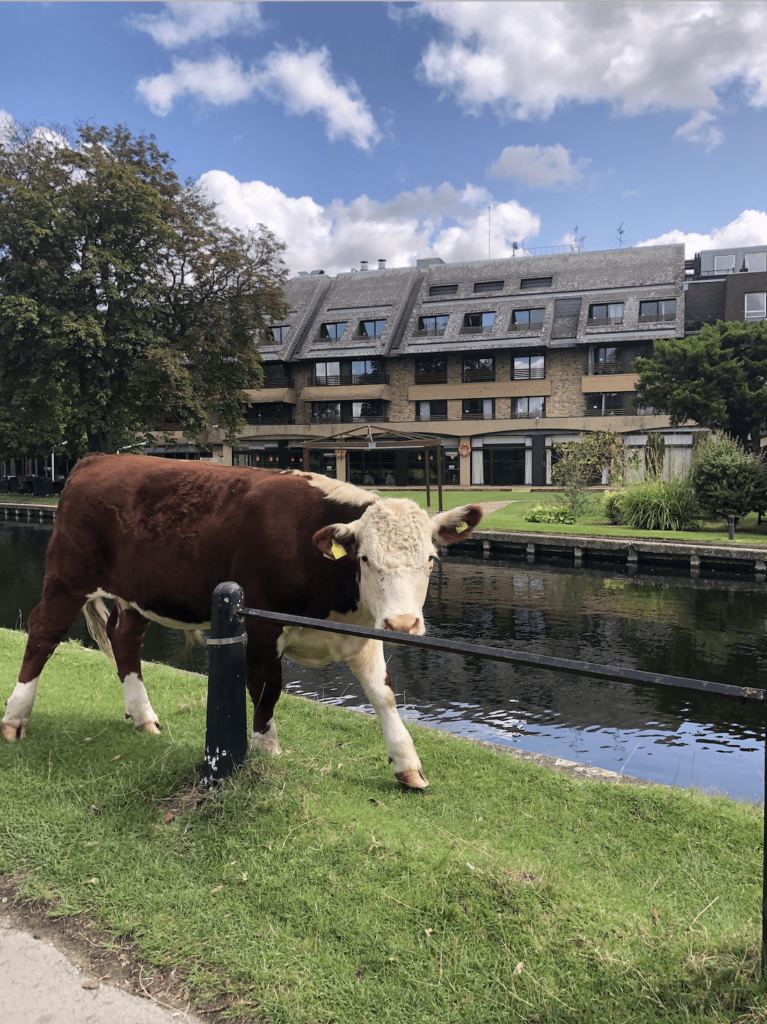 8. The Market
I would be surprised if I went a single day in Cambridge without visiting the market. The stalls change regularly and there's one for almost anything a person could need. Sitting here in the airport; I can see a ring and a necklace I bought there, I can feel the spicy pork dumplings from the dim sum stall in my stomach, and I can hear the sounds of bikes being fixed. While you don't always find what you were looking for (i.e. the three days I went in a row just to try and find a specific stall that was only up once a week), you're definitely going to find something new and interesting.
7. The Corpus Clock
I honestly wasn't sure if I should put this one on the list. After all, I really only visited it once and it was usually more of a hassle to me than anything else due to all of the tourists blocking the street to get a look. However, I've put it on the list because of what about Cambridge it represents to me. The passing of time has never been so inconsistent for me than when I was in Cambridge. A day was both a week and an hour and this clock is almost never on time. I don't think there's anywhere else in the world where time has worked this way for me and there's something special about that. For that reason, the Corpus Clock is on this list. It's how my heart measured time this summer.
6. The Flower Trail
One of the more confusing, but definitely cutest details of Cambridge. Even more so than the river, these flowers embedded into the sidewalks of Cambridge. When I first saw them I had no idea where they led or even where they were coming from – I always seemed to find them in the middle of their path. While I never followed the path in its entirety, following it partially was a great way to explore the city when I first got there. For the rest of the trip, whenever I found myself staring at my feet while walking, the flowers were always good company. One day, when I come back to Cambridge, I'm determined to fully follow the flower trail.
5. Cambridge Cheese Company
Extremely self-explanatory and delicious. A cute little cheese shop in an easy to miss alleyway with a focus on sustainability. There's really not much else to say about this one, the cheese is delicious and it's a great location in the center of town. They even have their own cheese that's exclusive to them called the Cambridge Blue.
4. Thirsty and Hungry
Thirsty and Hungry easily made this list, no problem! An adorable coffee shop in the day and a cozy wine bar at night. The people are incredibly friendly (see you soon Rory and Ollie!) and the wine and coffee are some of the best in Cambridge. Couple the talkative and helpful people with great music and tons of plants and you've got a chill spot to hang out and grab a cheese plate with friends after class.
3. Fitzbillies
Fittzbillies is an extremely popular coffee shop with two locations – I like to think of it as one of the only places to get a good cold brew in Cambridge. However, they're most well known for their Chelsea buns (delicious, but oh so sweet! Probably best with a black coffee). While I'm not quite as passionate about Fitzbillies as other coffee places, it's a great place to get some actual breakfast food rather than just pastries and a great coffee on the way to class.
2. Christ's Pieces Park
Are you a Christ's Pieces or Parker's Piece kind of OCS student? I'm decidedly a Christ's Pieces kind of OCS student. Christ's Pieces is a beautiful park located close to the center of town. One reason why this is my preferred park in Cambridge over many other also very beautiful parks is because of the memories there. This was the first place I hung out with a lot of other OCS students socially. Whether it was having a picnic during the day time or getting together to have movie nights on the grass or even just admiring the colorful flowers, it was always a good time at Christ's Pieces.
1. Bould Brothers Coffee
This is the place! The coffee shop that I'm most passionate about, the place that I'm the most passionate about. It was here that I chose to spend 10:30am to 1:30pm of my last day in Cambridge just hanging out. There are no mentions of it in the book and despite being in the dead center of Cambridge, never seemed to catch on with the rest of the OCS group. This is Bould Brothers coffee, my favorite coffee and pastry place (and to reiterate favorite place) in Cambridge. What makes this place so special is, of course, the commitment to a good cup of coffee, but also the people who work there (I'm looking at you, Izzy and Marsi!). Every morning I went to this coffee shop and spent the first hour or two of my morning with locals and regulars who often loved Cambridge as much as I do. It was genuinely my favorite part of Cambridge and what I will miss the most now that I'm leaving.
While I'm extremely sad to be leaving Cambridge, I'm glad that I'm sad (if that makes sense) because that means that coming here was the right choice. Whatever stress that was a part of this summer be it applying and not knowing if I got in, difficult academics, navigating a new place; it was all worth it because at the end of the day I wish it wasn't over.
See you soon Cambridge!